Access the Dynamic Power of your Team!
Personality Type Training & Consulting
Discover Your Leadership Style
Eight Essential Questions
Making Inclusive Decisions
Discover Your Leadership Style
Different times and circumstances call for different kinds of leaders.  Knowing your Leadership Style allows you to access your power. Based in Personality Type (MBTI), Markey's model supports you in creating a career, team or business where you can shine.  
Step into your Superpowers and discover the freedom that follows.
Make friends with your Bozopowers and learn how to lean into the strengths of your team.
Tap into the energy and resources that are unique to your Personality Type. 
Markey's endless curiosity about what makes a good leader resulted in developing an dynamic Leadership Styles model that helps people recognize and powerfully claim the kind of leader they are instead of mimicking the mannerisms and language of others. In her book, Leadership Styles, Making Informed Decisions (2017), she presents a dynamic model that encourages a diversity in leadership roles that transcend conventional ideals.
All Types of Leaders benefit from coaching. In a series of individualized and private sessions, you can explore how to lead from your Leadership Style while continuing to grow and develop. 
Discover the natural opportunities and challenges of your Leadership Style.
Learn to flex your Leadership Style.
Recognize your natural blind spots and build resources.
Whether you are a Solopreneur, a CEO, or a Team Leader, individual Leadership Coaching will help you get support for your tactical and strategic challenges in real time so you can do more of what works.
Learn to recognize and lean into the strengths of different Leadership Styles and build resilient teams.
Embrace the opportunities that arise from including a variety of Leadership Styles in decision-making
Teams and individuals make thousands of decisions every day. Creating inclusive decisions in any organizations is a challenge and the faster we move the harder that becomes. 
Using the Eight Essential Questions model provides leaders and team members with a method for inclusion, by looking at challenges, projects, and planning from multiple perspectives. Each question represents the core needs of each of the Leadership Styles. Incorporating these questions into your routine and strategic conversations will enable your organization to consider the perspectives of the people around the table and those who may not be present yet.
Make more informed and inclusive decisions
Develop leaders from within teams
Become more facile in considering multiple perspectives
Personality Type is Fundamental
Personality Type (aka MBTI) is a powerful lens that enables you to understand the strengths of your team. Knowing the individual types and group dynamics of your team allows everyone to be more effective, engaged, and energized in their roles.
We offer a comprehensive approach to unlocking the potential of your team. Using a combination of Temperament, Interaction Styles, Team Leadership Styles, and Project Leadership Styles, your team members will be able to tap into their own resources and those of their co-workers more effectively.
Temperament & Interaction Styles act as a complementary system and are best used together.
Temperament Styles – Why we do what we do and how it the influences culture norms of an organization.
Interaction Styles – How we do what we do and how it contributes to potential area of conflict.
Dynamic Team Leadership & Project Leadership Styles act as a complementary system and are best used together.
Leadership (& Followship) Styles – How we make decisions and how this impacts group dynamics.
Project Leadership Styles – How we interact with time and deadlines and how this impacts group planning, projects, and goals.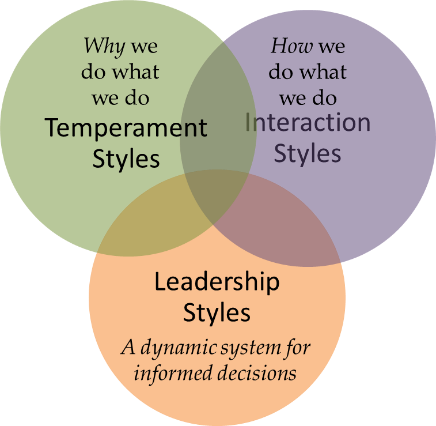 What you can expect as a result of learning Your Personality Type:
Personality Type (aka MBTI) is a useful lens that provides key insight into expectations that team members bring to groups and roles.
Personality Type provides common language for building bridges and creating more dynamic teams.
When team member will learn their natural Personality Type (1 of 16), you can identify areas for improvement, blind spots where deeper understanding, humor, and a slower pace would be required.
You can learn ways to access the strengths of your people in daily interactions and strategic positioning of company, team, or department.
This is a practical and flexible model for making well-rounded decision that encourages engagement and buy-in.
Personality Type provides rich insights into company culture
Individuals who understand their personality types: 
Emerge into more effective leaders and team members.
Assist fellow employees and team members in identifying strengths.
Take responsibility for their own professional development and seek appropriate opportunities for their style.
And maintain a much better sense of humor about themselves and others.
What's your favorite room in the Personality Type House?
Organizations and teams that understand their personality types: 
Have a dramatic rise in collaboration
Lean into fellow team member's strengths
Identify the best leaders for various projects and ad hoc teams
Develop professionals who want to stay and contribute
And have a much better sense of humor throughout their daily interactions.
Want to learn more about availability for on-site and on-line workshops for your organization?
The MBTI® is based on Carl Jung's theories on human behavior and development. Developed by Katharine Briggs and Isabel Myers, the MBTI® is now the most widely used measure of normal personality in the world.
MBTI and Myers-Briggs Type Indicator are registered trademarks of Consulting Psychologists Press, Inc.
Markey brings deep content knowledge, a sense of humor, and audience engagement to the world of personality styles. Through engaging anecdotes and stories, Markey will have you smiling through a subtly educational session about yourself and others, while deepening your appreciation for how we all uniquely show up in the world. As we strive to be better people in the world, self-awareness and an appreciation of our differences are game changers. Markey brings a dynamic presence and expert understanding of these nuances. I have worked with Markey several times and have appreciated how our individuals and teams are more curious about each other, connected, and patient after these sessions which translates directly into team results. If you are looking for someone who can help people more clearly know themselves and others, while enjoying the ride – Markey is just the dynamic speaker you seek.
Rebecca Towne,
Owner EM-Power
CEO, VT Electric Coop
There are many people certified to administer and train with the MBTI assessment, but the number of MBTI Master Trainers who are deeply steeped in Type and its effective application to our daily work and personal lives--the list of these people is very short, and Markey Read is up at the top of this list. A rarity in the OD field, Markey is a thought-leader who is able to go as deeply into her subject as her learners need without losing sight of application and practicality. As a long-time trainer and consultant, myself, I'm clear that there are not many trainers/consultants I would send "in my place," but any one of my clients would be lucky to work with Markey Read.
Hile Rutledge,
President & Principal Consultant of OKA, DC
It has been my pleasure to work with Markey on and off for the past 20 years. She is a dynamic trainer and coach who inspires change and draws out the best in everyone. A strategic thinker, Markey naturally focuses on the big picture, future possibilities and new paths forward, always with a strong focus on the client's core values. Customized, practical plans for growth and development are delivered seemingly without effort, because she is diligent with her up front preparation. Her sessions are always organized, well structured, interactive … and just plain fun! When you see her in action, you recognize that not only is she very good at what she does, but she truly enjoys it as well. Markey's engaging, creative style and her personal enthusiasm inspire even the most reserved participants. I give Markey my strongest recommendation without hesitation. If you work with her, you will find out why. 
Joyce Dicianna,
Director of Human Resources, Executive Management Team